I was contacted by a blog friend some time ago to see if I would test a bag for Maria Petrova from
Delinda Boutique.
I saw the bag and loved it. So of course I contacted her and agreed. Everytime I test a bag for a designer I end up learning a lot. Maria's bag designs are very beautiful. I already have my eyes on a couple. You can check all her patterns at her Etsy shop
here
or at Craftsy
here
.
So here's The Liliane Buckled Hobo Bag I tested.
Let me tell you that not only the design is beautiful but her instructions are very thorough. There are pictures for every single step. So if you are a visual learner you are covered. The pattern was just released today.
I searched for buckles to re-purpose but couldn't find anything so I ended up buying one. I used a black solid twill fabric and a canvas print. You can use and combine fabrics as you like. Maria shows you two examples she made so you can see how versatile the pattern is. It could be structured or completely relaxed depending on your fabric and interfacings choices. Your selection of buckle can also make your bag as casual or elegant as you want. I used a woven interfacing only since the fabric is a medium weight.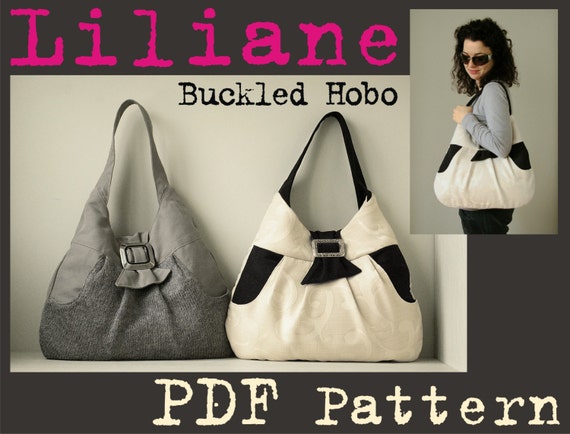 Here's another couple of views of my version.
The front pocket is as big as the bag front with two different ways to access it. I raised bottom of the opening a bit so the pocket will be deeper. That buckled flap has a magnetic snap behind it to close the bag. It looks so awesome. Inside there are two pockets; a zippered one and a nice curvy slip one. You can choose to divide the slip pocket in two compartments or leave it as one big pocket.
The size of the bag is 12 inches across at the narrowest point and 18 inches across at the widest point. It is 14 inches high. So I'll say is a large bag.
I had lots of fun sewing and testing this pattern. I'll say it could be done by a confident beginner. So go ahead and get your copy either on Etsy or Craftsy following the links above. Then use your choice of fabrics and you'll have a well designed bag to wear with pride. My version is available for sale
here
.